Transportation
THERE ARE NUMEROUS OPTIONS FOR GETTING AROUND WEST HOLLYWOOD AND TRAVELING TO UCLA, FROM TAKING THE FREE SHUTTLE BUS, HOPPING ON THE LOS ANGELES METRO BUS OR TRAIN OR HAILING AN UBER. AND THERE'S EVEN A DISCOUNT ON CAR RENTALS IF YOU WANT TO GO THAT ROUTE.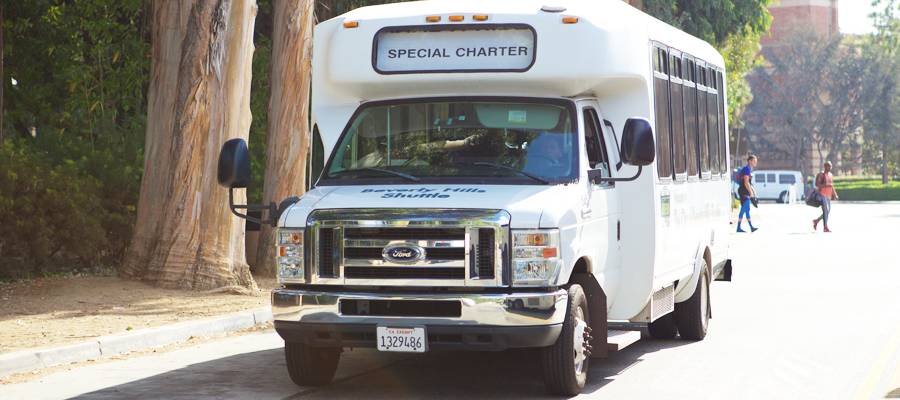 WSF SHUTTLE SERVICE
Hate to drive? We do too. Take the FREE Shuttle Bus instead!
Service is from @WeHoCity Park on San Vicente at the loading zone (look for sign) both Saturday and Sunday to UCLA free of charge! You can park your car in the parking structure at the park for $6 for the day versus $12 for the day at UCLA.
Be sure to check the schedule for estimate departure and pick-up times.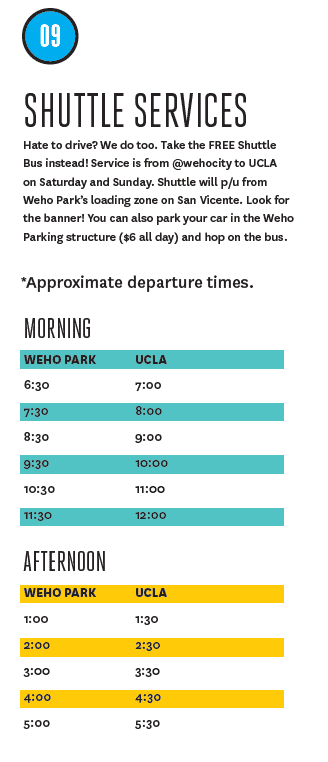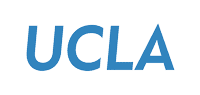 UCLA PARKING
Lot 7 is the designated main parking area for WSF. The unreserved spaces in Lot 7 are available for "pay-by-plate" parking. The fee to park your car is $12/car/day. Be sure to pay attention to signs. Reserved spots require a permit and you will be ticketed. Click the parking image below to enlarge the map. Lot 11 is available for guests and players to park that is closest to Sycamore Tennis Courts. Lot SV is the designated lot for tennis guests and players for Sunset Canyon Recreation Center. Lot 17 at Sycamore is a permit only lot.
ADA Assistance: If you require assistance from the designated UCLA parking locations to festival venues or between festival venues, a courtesy cart will be available on campus. Please notify a WSF crew member of your request or call (424) 265-2861 or (424) 26-LAVO1.

METRO Bus & Train
Catch the bus or ride the train, courtesy of Metro. The Los Angeles County Metropolitan Transportation Authority (Metro) is unique among the nation's transportation agencies. It serves as transportation planner and coordinator, designer, builder and operator for one of the country's largest, most populous counties. More than 9.6 million people – nearly one-third of California's residents – live, work, and play within its 1,433-square-mile service area.
Enterprise Rent-A-Car
Enterprise Car Rental has teamed with WSF to offer a discount for festival participants. Reserve a car during the weekend of the tournament and save 10% on the rental. Head to the Enterprise website to book your reservation, and enter the discount code below.
DISCOUNT CODE: XZSBC04

UBER
In a 24-hour city like Los Angeles, there's always someone looking for a ride. Cruising the streets along with residents and tourists are a plethora of Uber driven cars. Using the app, call and connect and be at your destination quicker than you can say, How do I get to …?
Need Help?
Give us a call at the number below or email us.

1121 N La Cienega, Suite 103
West Hollywood, CA 90069

323-275-9655

[email protected]