Promotions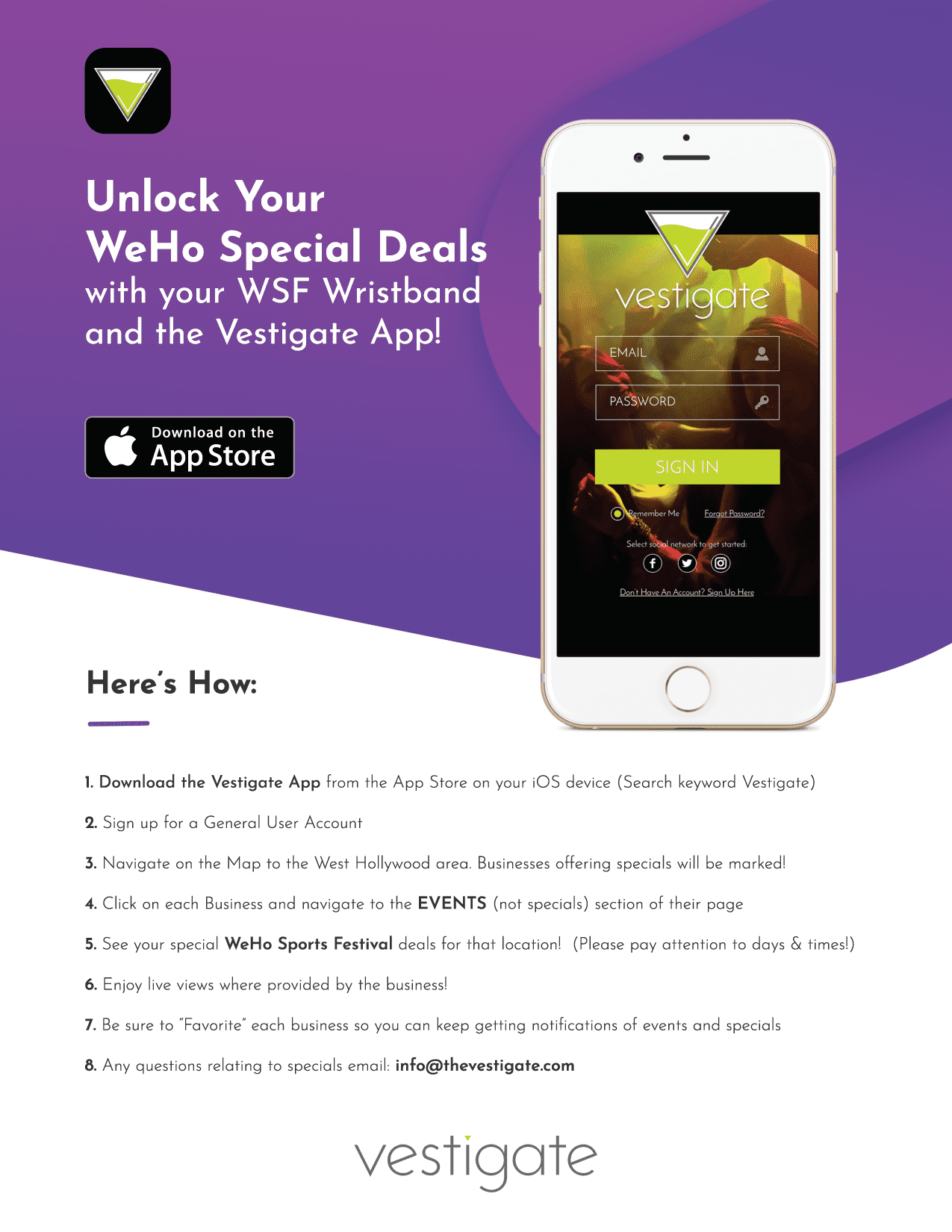 Instructions
1. Download the Vestigate App from your the App Store on you iOS device. (Search keyword "Vestigate")
2. Sign up for a General User Account
3. Navigate on the Map to the West Hollywood area. Businesses offering specials will be marked!
4. Click on each Business and navigate to the EVENTS (not specials) section of their page
5. See your special WeHo Sports Festival deals for that location! (Please pay attention to days & times!)
6. Enjoy live views where provided by the business!
7. Be sure to "Favorite" each business so you can keep getting notifcations of events and specials
8. Any questions relating to specials email:

[email protected]
Unlock special deals at many West Hollywood bars and restaurants exclusively for those with a WSF Wristband!
Gym Bar
$6.00 Three Olives Vodka - all flavors.
$3 Coors/Miller pints
One (1) FREE beer with use of your WSF Mug.
Micky's
$5.00 personal pitchers of Miller/Coors
Trunks
SAT: $5.00 well drinks from 8-10pm.
SUN: $4.00 import beers, $3.00 domestic from 4-8pm.
Cafe D'Etoile
1/2 off house made Sangria (red/white)
If purchase full price meal, sangria is FREE!
V Wine
$5.00 draught beers.
20% off wine bottles
St. Felix
Bar10
Extended happy hour until 11pm
Yogurt Stop
10% off your entire purchase
Kitchen 24
10% off discount*
*Discount will apply to all food and drinks not already discounted.
Pono Kitchen + Bar West Hollywood
$5 Craft Beers
$5 Ghost Margaritas
$6 Wines
Please refer to the Events section of Vestigate as discounts may vary or change.
Offers valid between 9/1 to 9/3.
Need Help?
Give us a call at the number below or email us.

750 N San Vicente Blvd Ste 800 W
West Hollywood, CA 90069

323-275-9655

[email protected]